Brands & Retailers
Fast-track your OmniChannel transformation
Today's New Normal require brands & retailers to transform how they approaches eCommerce as well In-Store. CLEARomni enables a unified, frictionless customer experience and omnichannel operations.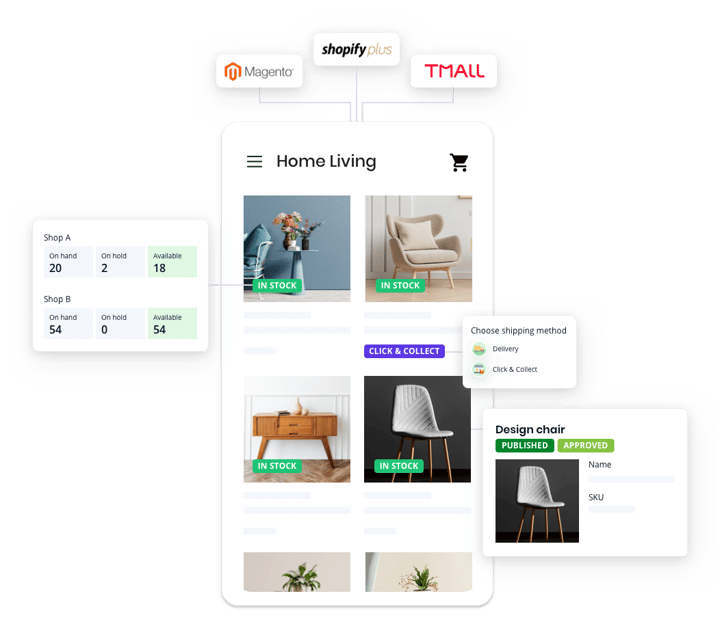 CLEARomni for Brands & Retailers
How CLEARomni can help
Orchestration engine for different aspects of multi-channel & omni-channel selling
Sell in Brand.com and 3rd Party Marketplaces
CLEARomni has pre-built connectors with major eCommerce platforms and 3rd party marketplaces, giving you the flexibility to sell in different channels.

Maximize inventory utilization with smart allocation and visibility
Headless storefront integration to show availability at brand.com, smart inventory allocation to channels allowing smart use of both store and warehouse inventories.

Central management of product information for all channels & languages
Whether you have just 1 person or you have multiple teams responsible for different portion of your catalog. CLEARomni PIM enables centralized management of product data, facilitates data quality and control.

Enable omnichannel fulfilment including click & collect and ship-from-store
CLEARomni OMS enables flexible order routing and fulfilment workflows, to facilitate variety of delivery & collect options, and utilize the right inventory in warehouses or stores.

Empower store associates with endless ailse selling & store fulfilment
With the new roles of store associates, CLEARomni In-Store provides tablet-based Apps for clienteling, endless ailse selling and in-store fulfilment.
Work with your existing systems through flexible integration
CLEARomni has pre-built connectors with major eCommerce platforms such as Adobe Commerce (Magento), Shopify and Salesforce Commerce Cloud, enabling your B2B2C marketplace model with your existing eCommerce infrastructure.
Speed up your digital commerce transformation Now!
We're here to help you get started with solutions that best serve your business. Please complete the form below to get in touch with our team.